STORY HIGHLIGHTS
NEW: Israeli spokesman says shells may not have been from Israeli forces
NEW: Israel uses disputed white phosphorus shells, U.N. spokesman says
U.N. relief agency's Gaza City headquarters, warehouse ablaze after attack




JERUSALEM (CNN) — U.N. Secretary-General Ban Ki-moon condemned an attack on a U.N. relief agency's compound in Gaza City Thursday, which he and other U.N. officials say was committed by Israeli forces.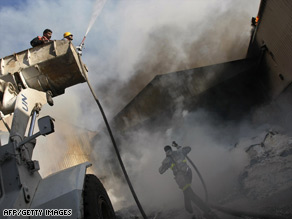 Firefighters try to douse a fire Thursday at the United Nations' main relief agency in Gaza City.
"[Israeli] Defense Minister Barak said to me it was a grave mistake and he took it very seriously," Ban said at a news conference in Tel Aviv with Israeli Foreign Minister Tzipi Livni.
But Israeli government spokesman Mark Regev said the matter is still under investigation. When asked about Ban's comment, Regev said Defense Minister Ehud Barak actually told the U.N. chief that "if it was Israel's fire, it was a grave mistake."
Regev said it was "not clear whose shells, whose fire hit the U.N. facility."
"It could have been ours, it could have been Hamas'," Regev said. "This is being investigated." 

 Watch Regev respond to accusation »
Israeli forces moved into Gaza City overnight. During the clash with Hamas fighters, the U.N. Relief and Works Agency headquarters complex — located in a densely populated neighborhood — was hit repeatedly by shrapnel and artillery.
The burning compound emitted a massive pillar of billowing black smoke. Clashes around the compound in Gaza City made it impossible to extinguish the fires, UNRWA Director John Ging said. 

 Watch as fire blazes at U.N. compound »
Don't Miss
An artillery shell struck one building wounded three workers, and the compound's warehouse and workshop were burning out of control within an hour and a half, he said.
"We warned the Israelis hour by hour through the night of the vulnerabilities here as the shells came closer and closer and shrapnel was coming into the compound on a regular occasion," Ging said. "Nonetheless, we have now been subjected to these direct hits."
Ging identified the source of the fires as white phosphorus shells, whose use is restricted under international law.
"It looks like phosphorus, it smells like phosphorus and it's burning like phosphorus," Ging said. "That's why I'm calling it phosphorus."
The Israeli military did not immediately comment on the allegation. But the U.S.-based group Human Rights Watch has accused Israel of using white phosphorus shells in Gaza during its campaign againstHamas, the Palestinian militant group that has ruled Gaza since 2007.
Human Rights Watch said that although the use of white phosphorus to obscure military movements is legal, the substance can burn civilians and start fires in the densely populated territory. 

 Watch as civilians suffer most »
The Israel Defense Forces initially denied using the ordnance. But by Monday, Israeli officials said only that any shells fired in Gaza "are in accordance with international law."
Regev said Hamas is also armed with phosphorus shells and has fired them at Israelis.
"Phosphorus shells were shot by Hamas from Gaza into Israel," Regev said Thursday. "That was documented yesterday."
More than 1,000 Palestinians have been killed and nearly 5,000 wounded since the conflict began, Palestinian officials said Wednesday. Israel said 10 of its soldiers and three civilians have been killed and more than 100 soldiers have been wounded.
Following the last two days of bombardment, the private relief agency CARE announced it was canceling its distribution of food and medical aid to the territory during Thursday's fighting as well. Read an aid worker's diary

UNRWA spokesman Christopher Gunness said the agency had urged both Israel and Hamas, which has been firing rockets into southern Israel, to heed the "conscience of the world" and comply with a U.N. resolution that calls for a cease-fire.
But he added, "I'm standing looking over the town of Beit Hanoun, and with every dull thud and every plume of smoke that comes out of there, it's sad to say that the parties on the ground are not listening."
E-mail to a friend

CNN's Michal Zippori and Talal Abu Rahmi contributed to this report.
All About Hamas • Israel • Gaza • Ban Ki-moon