India's first Islamic bank to start in Kerala by 2010
Last updated on: September 01, 2009 20:26 IST
The first Islamic bank in the country with active involvement of the Kerala [ Images
] government is likely to start operations in Kochi by next year as the
bank's registration formalities are currently being fulfilled on a war
footing.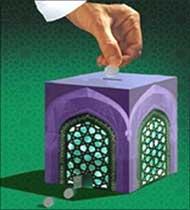 The
Kerala industries department is actively involved in the new initiative
and a high level meeting held at Kozhikode on August 12 had approved a
project report prepared by Ernst & Young.
Kerala State Industrial Development Corporation, which is the
designated agency for the formation of the bank, will have 11 per cent
stake in the proposed banking company.
According to government officials in the know, it will be registered
as a non-banking finance company in the beginning and later get
transformed into a full-fledged Shari'ah-compliant bank. It is likely
that the registration formalities will be completed in the current year
itself and the NBFC will become operational in 2010.
The project proposes to raise an initial capital of Rs 500 crore (Rs
5 billion) from leading non-resident Indians and Indian business
houses. According to sources close to the development, leading NRI
businessmen such as Mohammed Ali, MA Yusuf Ali, CK Menon and other
Kerala-based industrialists such as Azad Mooppan have shown keen
interest in the venture.
Though an RBI study group had eariler rejected the concept of
Islamic banking, it got the backing of the Raghuram Rajan Committee on
banking reforms. Purely based on Shari'ah principles, the bank will
avoid interest-based business activities.
The proposed Kerala-based bank plans to invest funds in
infrastructure projects, and two areas, Bai al Salam and Instinsa,
under Shari'ah have been identified for such investments.
The bank will invest all its funds in wealth generating investment
avenues and will distribute profit to its shareholders. The proposed
Islamic bank will also set apart a social fund, compulsory under
Shri'ah principles and the Islamic banking concept, and will provide
interest-free loans to the Gulf returnees to set up business or small
scale ventures.
The concept is getting widespread support among the Muslim community
of the state as a large number of rich Muslims are strictly practicing
Shari'ah principles in business.
A major chunk of such persons do not have a bank account. A lot of
discussion is also going on whether investment in capital market is
against Shari'ah principles. A section of the community believes that
share trading is against the fundamentals of Islam. So the formation of
an Islamic bank will be a relief to them.
This concept is very popular in West Asia and in predominantly
Muslim nations such as Malaysia and Indonesia. Leading international
banks such as HSBC and Standard & Charted have exclusive Islamic
banking windows.
According to sources, the biggest challenge before the Kerala-based
bank will be the formation of a Shai'ah Supervisory Board in order to
monitor the activities of the bank. The board should include
independent scholars on Shari'ah and banking business.
George Joseph in Kochi