Trilokpuri riots: Police were violent with Muslim women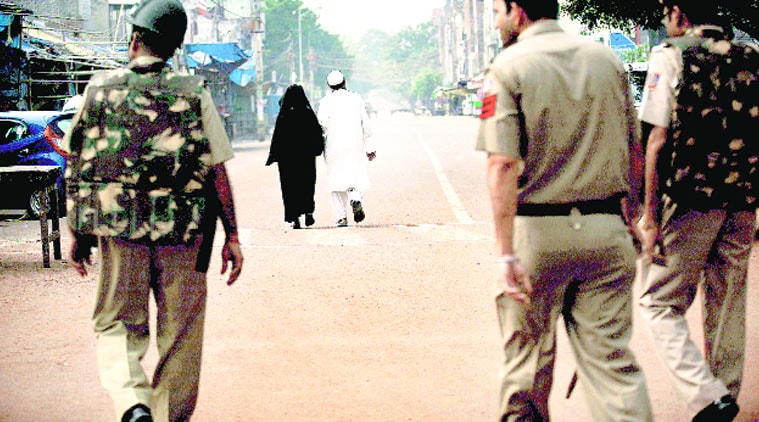 The four-page complaint consists of 'testimonies' of victims from Trilokpuri. (Source: Express archive)
A complaint filed before the Delhi Minorities Commission has alleged that the action taken by Delhi during the communal riots in Trilokpuri was partisan and that male police officers had used force against Muslim women.
The complaint was filed by the Social Democratic Party of India (SDPI) on October 30. It has urged the commission "to conduct an inquiry into the role and conduct of the local police of Kalyanpuri and Mayur Vihar Phase I, in light of the serious allegations and complaints of indiscriminate arrests, torture, beatings, high-handedness, abuse of power, discrimination and hostility towards the Muslim community."
Police had registered three FIRs in connection with the riots and arrested 32 Muslims and 12 Hindus.
However, SDPI state secretary Azim Khan claimed, "We spoke to several residents from different blocks in the area. Muslim men were picked up not only from streets where violence took place but also their homes."
The four-page complaint consists of 'testimonies' of victims from Trilokpuri, like that of a Muslim woman from Block 27. The woman said that around 3.30 pm on October 25, around 20-25 policemen broke open their house and assaulted her husband and brother-in-law — a tuberculosis patient — and picked them up."
"Police also physically assaulted and abused the women and children in the house before dragging these men out…There are numerous testimonies of Muslim women being beaten and verbally abused by male police officers," Khan alleged.
Claiming that Muslim women continue to feel unsafe, the complaint stated, "It has also been reported in eyewitness accounts that Muslim women are especially vulnerable at this point and fear for their safety. This feeling of insecurity or apprehension of sexual violence is exacerbated in those blocks of Trilokpuri where there are fewer Muslim houses."
Chairman of the commission Qamar Ahmad said the commission is examining the complaint and has asked residents of Trilokpuri to share their experiences with its members. The three-member commission had also visited the riot-ridden area for restoration of peace.
"We have not received the police version yet. We will carry out preliminary work and forward the complaint to police," Ahmad said.
However, a senior police officer who was part of the investigation denied the claims made by SDPI. "There has been no discrimination on the part of police while conducting searches or making arrests during the clashes. Also, there was not a single spot where female police officers were not deployed to quell the violence and disperse the rioters," he said.
— Inputs from Sarah Hafeez
– See more at: http://indianexpress.com/article/cities/delhi/trilokpuri-riots-police-were-violent-with-muslim-women/#sthash.IqDtTh4k.dpuf